Why you should complement Microsoft Dynamics 365 Business Central with Ongoing WMS
Microsoft Dynamics 365 Business Central (BC) is an Enterprise Resource Planning system (ERP) that contains a built-in Warehouse Management System (WMS). This text outlines why many users of BC have chosen to extend that functionality with Ongoing WMS. If you are a third-party logistics provider (3PL), the simple answer to that question is that many features in Ongoing WMS are specifically developed for 3PL. If you, on the other hand, run your own warehouse, the answer is a bit more complex:
In general, most major ERP systems have functionality that extends far outside the core ERP system functionalities. You might be able to run all your IT processes within one single ERP system, and some of the built-in modules might be good enough for your business. However, once the processes become more complex, the functionalities in the built-in modules might become too basic for your specific needs. Therefore, many companies choose to replace some of these modules with so-called best-of-breed solutions and then integrate these with their ERP. If warehouse management is a high cost to your business and important for your competitiveness, you should consider using a WMS software solution that specializes in this specific field of business. Below, we list some of the reasons why you should complement Microsoft Dynamics 365 Business Central with Ongoing WMS.
Grow with your warehouse
Warehousing on an overall level is always the same. However, all warehouses have their unique goods, conditions and processes. BC is very good at handling the general conditions. Ongoing WMS, on the other hand, has lots of features and settings to adapt the process to your specific warehousing needs. It also has support for more warehouse processes. The larger your warehouse grows, the more processes you need.
Get expert support
BC is sold by consultants. These consultants are not necessarily experts in warehousing but instead focus on other parts of the ERP. Therefore, it can be hard to find the required competence to tweak your instance of BC for your warehousing needs. Ongoing WMS is sold directly by the company which developed the software. The company's staff are experts in the product which specializes in making warehouses efficient. Therefore, it is easier for you to get help, and less reliant on a specific consultant.
A software designed for warehouse workers
BC has a rich data model which supports most warehouse processes. However, BC has an angle of incidence from the accounting world. This makes the UI hard to understand for a warehouse worker. Ongoing WMS focuses on the warehouse processes, has its master UI, just like BC, but also complements that UI with our Ongoing WMS Scanning interface. This is a focused UI on the key processes the warehouse worker should perform on a step-by-step basis. This step-by-step process focus does not exist in BC.
Optimize your processes for your customers
Many companies now sell to many different types of customers by combining different types of B2B and B2C channels. Using of a general-purpose built-in WMS for this purpose is a blunt tool. It can force you to one average-efficient process for all your different types of customers. By using a dedicated WMS, such as Ongoing WMS, you can create dedicated processes for your different types of customers and different order types. For example: Breaking out all small orders, pick them on a picking cart.
Separate your concerns
Separation of concerns is a useful concept. By implementing Ongoing WMS in your warehouse, the warehouse workers will work only in Ongoing WMS while personnel outside of the warehouse will work in Business Central. This allows for processes which are more tailored to the specific users to be created. The warehouse does not need financial information or other things an accountant need. The warehouse worker needs something more hands-on to their actual processes. Separation of concerns also creates a natural divide of work. It will be easier perform structural changes of your business such as in and outsourcing. Maybe you want to take advantage of the big network of 3PL operators that use Ongoing WMS?
Print smart and efficiently
A big part of modern consumer-focused warehousing is printing of different documents. You always need at least one label for your package, maybe you also need a return label, delivery note, pick list or others. This can be complicated and cumbersome when working on a mobile device. Walking to a workstation every time you need to print something is time consuming. And so are sorting a large pile of paper. It is these problems Ongoing Printer Service attempts to tackle. It gets you the documents on the right printer at the right time as a natural part of the warehouse process, creating a warehouse, without paper, where everything is available on a mobile device.
Collect data for continuous improvements
Another benefit of going fully digital in the warehouse is all the productivity data you collect. Utilizing your mobile device in the warehouse and performing all the tasks on it registers who, when, and what happened. Ongoing WMS then presents the data for you and enables you to continuously improve your processes. Maybe you need to move goods, service a printer, change the time of the device you are using, or provide additional training to a worker. With the feedback that data provides, you have the possibility to improve. Compare that to printing an inbound list or a pick list to later go back to your computer and finalize the task, which might be the case if only using the built in Warehouse Management System in BC.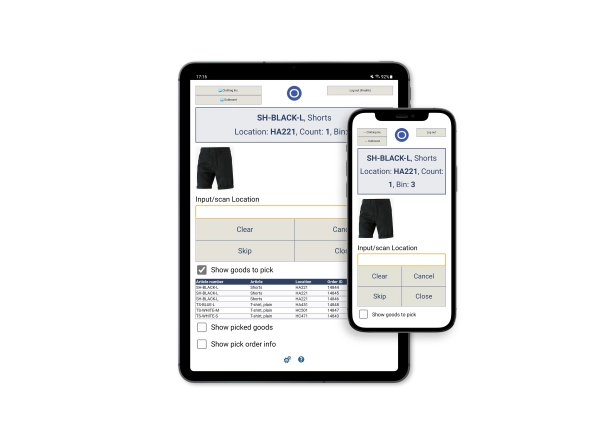 Glossary
Most IT systems have their own name for the different concepts. Here are some comparisons between Business Central and Ongoing WMS.
| | |
| --- | --- |
| Business Central | Ongoing WMS |
| Location | Warehouse |
| Zone | Zone |
| Bin | Location |
| Shipment | Order |
| Item tracking | Article items |
| Inventory pick | Goods item on order |