The mobile version of Ongoing WMS
Table of contents
Introduction
Ongoing WMS provides a version of the system which is suitable for use on mobile devices such as smartphones and tablets. The mobile version allows a user to:
Create and edit orders,
Create and edit customers,
Check stock balances.
The intended user of the mobile version is a 3PL's customer user who needs access to the warehouse from a mobile device.
How to access
The address to the mobile version is the same as the address to the ordinary system, but with /Mobile/ appended at the end, like this:
https://.../Mobile/
In the ordinary version of the WMS, there is a direct link to the mobile version in the System menu:

There is also a link to the mobile version in the bottom right corner:

Your ordinary username and password can be used to login to the mobile version.
How to use
After you have logged into the mobile version, you will be greeted with the following screen: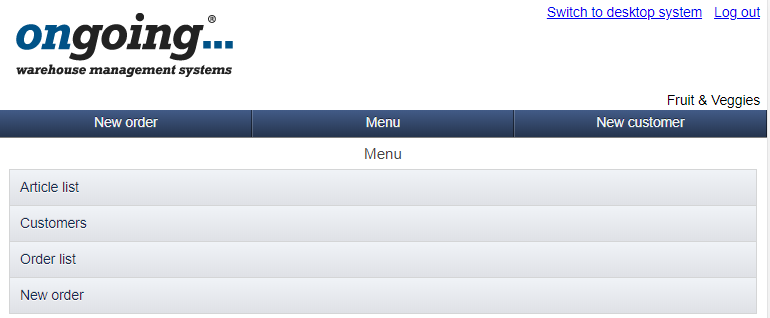 You can always return to this screen by clicking Menu.
In the main screen, you have following options:
Article list - view all articles and their stock balances.
Customers - view all customers and their addresses.
Order list - view all orders.
New order - create new order.