Consolidated orders (Shipments)
Table of contents
Introduction
To decrease administration, the amount of packages and often reduce the freight cost, orders can be consolidated, so called shipments in Ongoing WMS. There can be different setups to arrange these grouped deliveries depending on customers and process, but there are common cases described below.
Consolidated orders to same recipient
If there are more than one sales order to be sent to the same recipient, it is usually more cost-effective to send these orders in the same shipment. The most effective process is then to pick and pack those grouped orders together, with scanning and installed printer service, which is described below.
Mark all orders that should be picked and click allocate. There is no need to filter and mark only for one separate shipment at the time, the different orders will be grouped into shipments based on the customer and address.

Shipments will be created and can be seen in the shipment list.





Open the scanning module and choose the shipment scanning to pick the grouped orders.



Choose a shipment from the list and scan all products.



As a last step in the scanning, add package and transporter information.



The booking and printing can be done from the scanning, if using Ongoing WMS printer service. Otherwise, return to shipment list and send the shipment.
In some cases, there is need to keep the orders separate at the picking and then group them just for sending. Then it is possible to consolidate the orders manually after the picking and then add waybill manually on the shipment.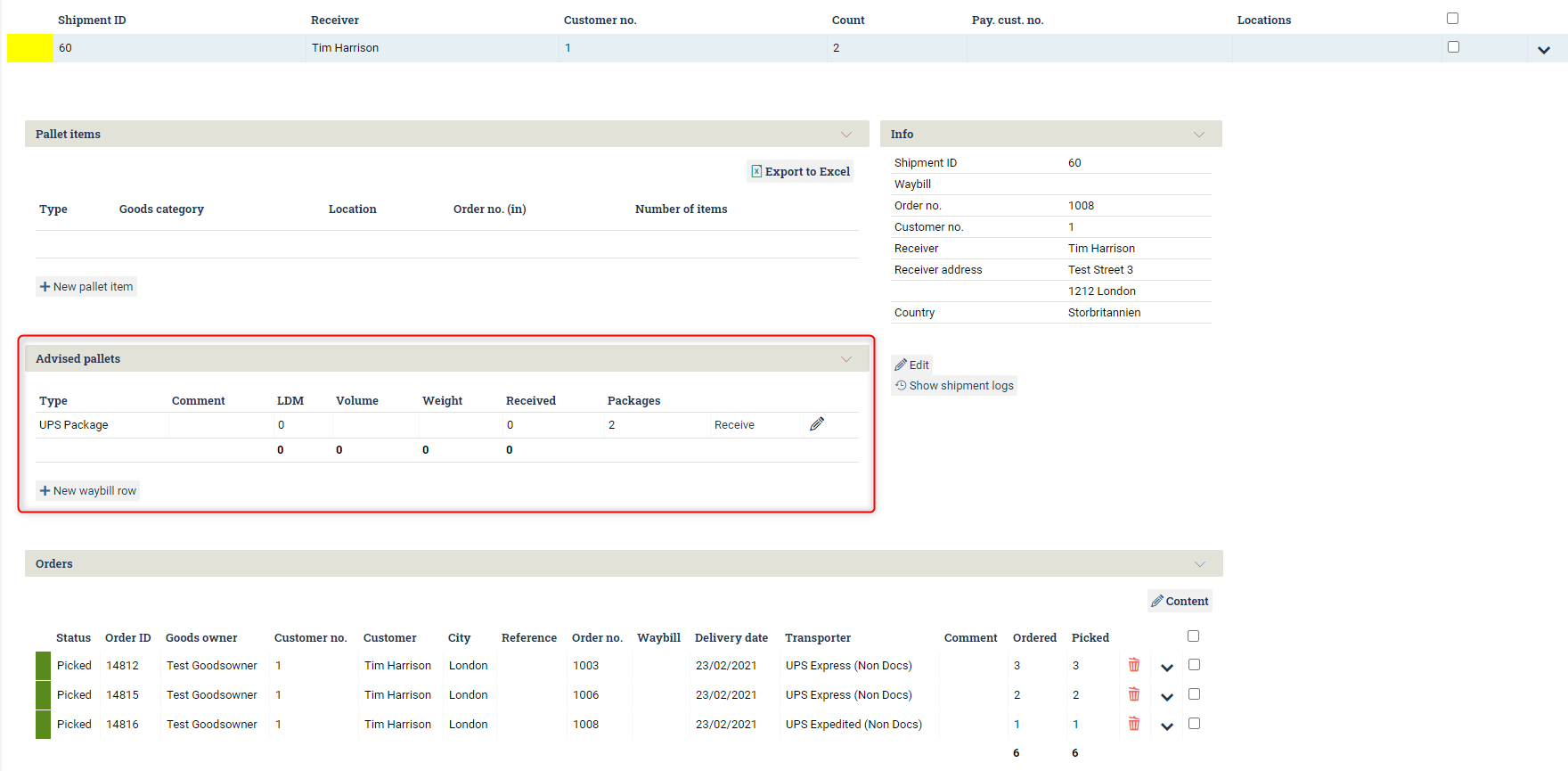 Split shipment
Another way to use the consolidation function is for split shipment. This is used to make group deliveries of orders to the same country, which will decrease the administration with customs declarations and might also reduce freight costs. The shipments are sent to a terminal in the country of recipients and there the different orders are split and sent to the different addresses. The workflow of this process is described below.
Allocate and pick all orders that should be sent.
When picking is finished, an address label is printed for the order with the customer as receiver and the foreign terminal as sender.
If there is an open shipment to the country, the order is added. Otherwise, a new shipment is created.
When a pallet is filled with enough order packages, the pallet information of the whole shipment is added, and all freight documents are printed to send the pallet to the terminal.
Next step
To make any type of consolidations, some settings and adjustments need to be applied by your contact at Ongoing Warehouse. So please contact us to discuss your setup to get a more efficient process.